We're running up against the loss of daylight, so I'm moving Tuesday's workout up to 5:30 PM so we have a chance of finishing while it's light enough to see. With Daylight Saving Time changing next weekend, even 5:30 PM will become untenable, so this will be our last fall workout of the season.
I certainly hope we can do indoor track workouts this winter, but that depends entirely on Cornell allowing it, and honestly, I don't hold out much hope, nor would I blame them for being cautious.
So let's go out with some fun—it's time for another Ridiculous Relay! Here's the deal. After the warmup, we'll assemble at the almost-400m loop at the top of the far hill.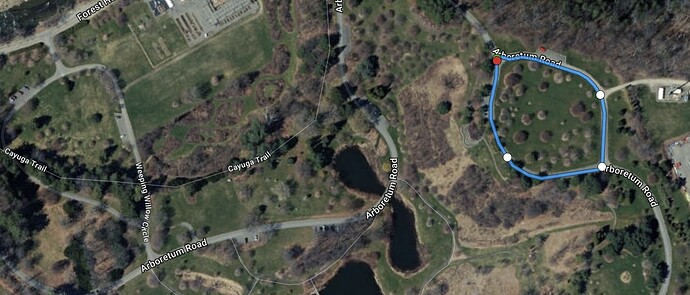 We'll match up the fastest and slowest runner, the next-fastest and next-slowest, and so on, and then assemble pairs of people into four-person teams. Then one set of people from each team will start. Here's the twist. Within each set, the runners run in opposite directions until they meet (I'll try to figure out some batons to increase the amusement value), then they turn around and run back the way they came to the start. That way the faster runners run longer and the slower runners run shorter, but they both run for about the same amount of time. The pace should fairly fast—roughly mile race pace. But pace yourself because it's easy to get caught up in the excitement and run too fast early on.
Once the first set of runners both make it back to the start, their team's second set of runners go, and the first set gets to rest and cheer for their other runners. While all this is happening, the other teams' runners are doing the same thing. The winning team will get all their runners back first after all sets have done 8 reps.
Join us and embrace the chaos—all are welcome, even if you've never come before!
PS: We meet at the parking area in the bowl of the F. R. Newman Arboretum at the Cornell Botanic Gardens. The workouts are free and open to all FLRC members, but everyone must sign an online waiver once for 2021. It's the same as for the FLRC group runs, so if you've signed that one this year, no need to do so again. If you aren't fully vaccinated, please wear a mask whenever you aren't running. And get vaccinated!
Resources