Due to the ever-earlier sunsets and Halloween coming next Tuesday, this will be our last outdoor workout for the year. On November 7, we'll pick up in Barton Hall again, with the time changing to 7 PM after the Cornell track team is done with their practice. Mark your calendars.
For this final outdoor workout, meet at the usual spot in the Cornell Botanic Gardens at 5:30 PM with a warmup start at 5:45 PM. Given our race on Sunday and because it's our last chance, we'll be reprising the wonderfully chaotic Ridiculous Relay this week. If you're a few minutes late, come and find us after the warmup jog at the top of the hill by the bell. Everyone is welcome to join the fun, even if you haven't been able to make many of these workouts so far.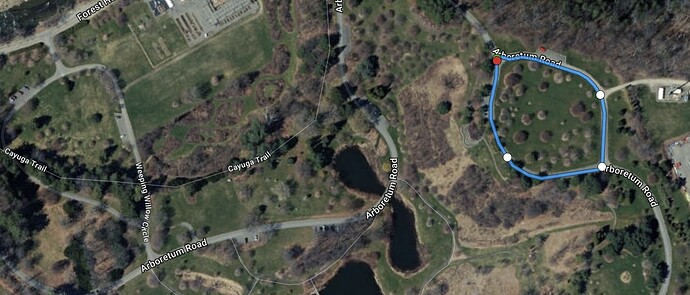 For those who haven't had the pleasure of a Ridiculous Relay before, here's how they work. After our warmup, everyone lines up in order of speed so I can match up the fastest and slowest runner, the next-fastest and next-slowest, and so on, and then assemble pairs of people into four-person teams. Then one set of people from each team will start. Here's the twist. Within each set, the runners run in opposite directions around the roughly 400m loop until they meet, exchange a baton, and then turn around and run back the way they came to the start. That way the faster runners run farther and the slower runners run shorter, but everyone runs for about the same amount of time. The pace should be quick—roughly mile race pace. Pace yourself because it's easy to get caught up in the excitement and run too fast early on.
Once the first set of runners both make it back to the start, they hand off the baton to their team's second set of runners, and the first set gets to rest and cheer for everyone else. While all this is happening, the other teams' runners are doing the same thing. Laps are run! Leads change! Batons are dropped! Chaos ensues! The winning team will get all their runners back first after all sets of runners have done 8 reps.
New this year for the four members of the winning team—actual prizes that can be chosen from the many wonders in the depths of the Big Box of Random Swag!
Everyone is welcome at these workouts, though you must sign the FLRC Training Programs waiver once for 2023 and, if you're coming regularly, be an FLRC member.
Any questions? See you Tuesday night!
Resources