By popular acclaim, it's time to bring back the Ridiculous Relay, which has been big fun the last few years. Here's the deal. Meet at the bowl in the Cornell Botanic Gardens by 6 PM. After a warmup, we'll assemble by the Yield sign at the almost-400m loop at the top of the far hill in the Arboretum. (If you're on the late side, come straight up to the hill and we'll figure out how to work you in.)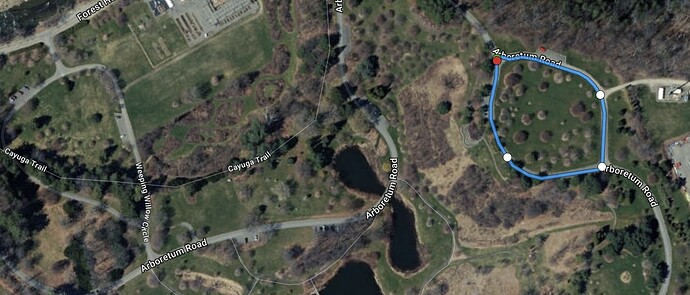 We'll match up the fastest and slowest runner, the next-fastest and next-slowest, and so on, and then assemble pairs of people into four-person teams. Then one set of people from each team will start. Here's the twist. Within each set, the runners run in opposite directions until they meet, then they turn around and run back the way they came to the start. That way the faster runners run farther and the slower runners run shorter, but they both run for about the same amount of time. The pace should fairly fast—roughly mile race pace. But pace yourself because it's easy to get caught up in the excitement and run too fast early on.
Once the first set of runners both make it back to the start, their team's second set of runners go, and the first set gets to rest and cheer for their other runners. While all this is happening, the other teams' runners are doing the same thing. The winning team will get all their runners back first after all sets of runners have done 8 reps.
New this year will be batons! That's right, none of this lame "ships passing in the night" handoff—this year, you'll have to exchange one of our standard track batons, which have been pining to be used since the last track meet. And, of course, the person returning with the baton will have to hand off to the next runner on their team at the start/finish too. Points will be awarded for particularly stylish handoffs and deducted for baton drops.
Join us and embrace the chaos! All are welcome, even if you haven't previously come to one of these XC workouts.
The workouts are free and open to all FLRC members , but everyone must sign an online waiver once for 2022. It's the same as for the FLRC group runs, so if you've signed that one this year, no need to do so again—check Webscorer to see if you already signed.)
Any questions? Hope to see you on Tuesday night!
PS: Heads-up! Starting on October 11th, we'll be moving the time up to 5:30 PM because sunset gets 12 minutes earlier each week and we're rapidly running out of light.