Holy fartleks, @Challengers—our first week of the 2023 FLRC Challenge is off to an amazing start. 108 people have signed up so far, and 65 have recorded at least one run. That's significantly up from where we were the first week last year, and let's keep up the momentum!
If you haven't yet registered, the courses are waiting. Sign up soon to get in on the first shirt order, which goes in May 2nd. For those already participating, recruit your friends—the more runners who join, the more community we can build (and the larger the running store gift certificate awards and club donation to the Cornell Botanic Gardens will be at the end). Remember that this year we have the Personal Challenge for anyone who can't or shouldn't run all ten courses, hidden times for the shy, and a financial aid option for those who wouldn't be able to afford to participate otherwise. Details on the Challenge home page.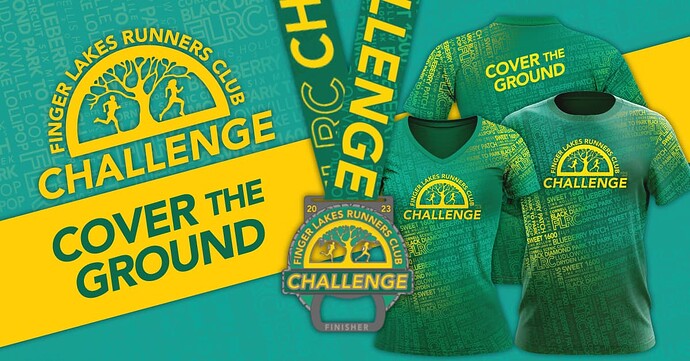 For those new to the Challenge, remember that you need to download the Webscorer app and sign into it with the account you created when you registered for the Challenge. Full instructions are here, and feel free to ask me or a friend who has done it before if you have questions. I also strongly recommend that you get the RunGo app and load the instructions for a course the first time you run it by yourself. Each course page has the links you need.
The big question keeping us glued to the leaderboard is who will be the first to complete the Challenge this year? In 2021, Jamie Loehr was first to claim a medal, but in 2022, Rebecca Lambert finished six courses in the first week to claim the first medal shortly after. This year, they're going head to head, with both having completed nine courses already! It will probably be decided tomorrow morning, since Rebecca has only the short Ellis Hollow Creek Crossings to go and Jamie's facing the 13.1-mile Dryden Lake Lollipop. Both are getting family support, with Caitlin Loehr having finished seven courses, and Rebecca's husband Tristan Lambert at four and her son Ben Lambert at three.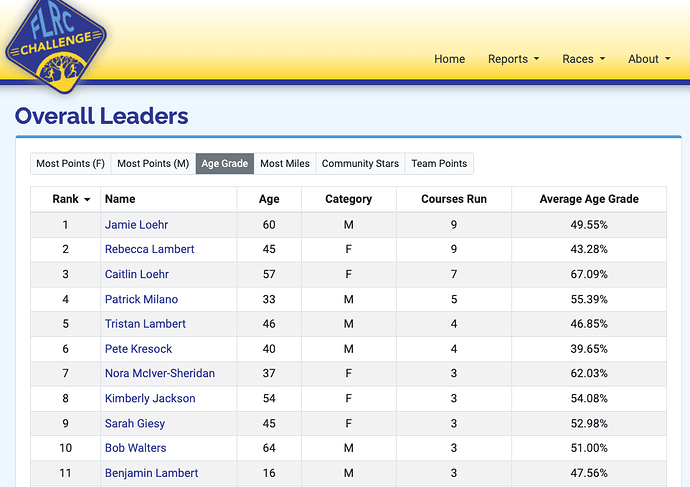 Along with the leaderboard, check out the Star Posts for each course on the FLRC Challenge forum. Fellow Challengers are posting about their runs, complete with photos, and the posts are a great way to get to know people a bit before you meet them on a group run. Photo of the week goes to first-timers Melissa Plank and Courtney Pure for their Lakefront Loops post, and yes Melissa, you did it right!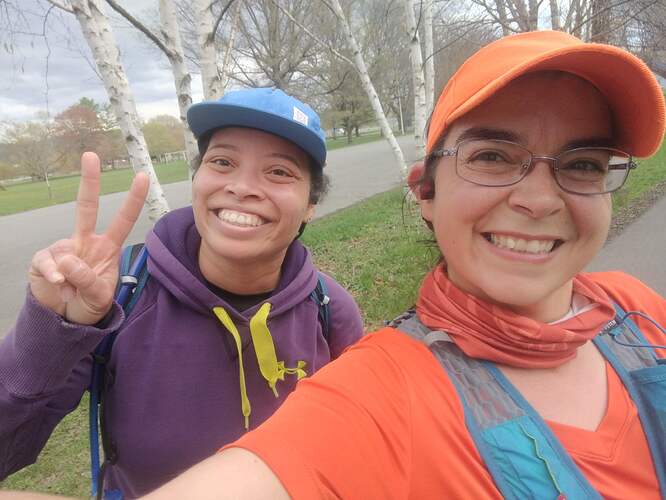 Don't miss tomorrow's group run on the Ellis Hollow Creek Crossings course, complete with post-run bagels and cream cheese, chocolate milk, and dips in our pond!