Check out our stats! We officially passed the 5000-mile mark this afternoon with Jullien Flynn and Gabrielle Woo running Tortoise & Hare together. Plus, we're now at 150 registrants, though not everyone is yet on the leaderboard. Remember, every run benefits you and your team, so there's no reason to put off signing up, and there's never any penalty for running slowly.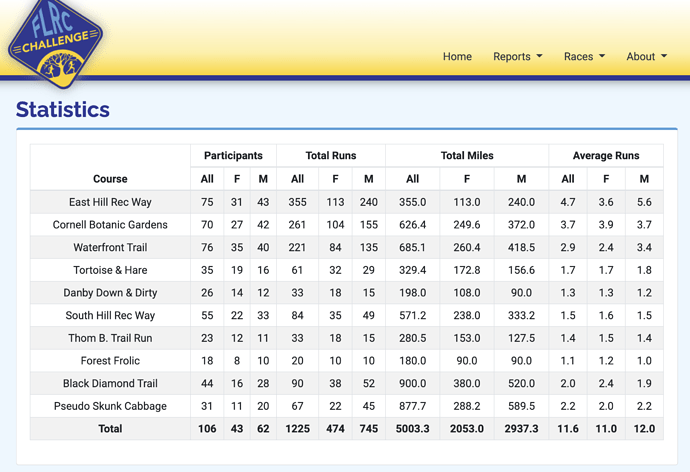 I'm intrigued to note that although there are currently quite a few more men than women in the Challenge, on our trail courses, women have logged the same (Forest Frolic) or more (Tortoise, Danby, and Thom B.) miles than men. Let's see if this preference for gnarly trails continues! By the way, women dominate endurance races in general, with 57% of registrants in RunSignUp's 2019 report.
Congratulations to Jesse Koenecke, who ran Forest Frolic yesterday to finish off his tenth course and get in line for an FLRC Challenge medal! Ved Gund and Jullien Flynn are next in line with nine courses done, after which there are six people with eight courses. The weather doesn't look great for running this weekend, but I'll bet that at least one or two more people complete the Challenge soon.
This week also saw a nice run from Peter Frazier, who notched a 1:12:07 to take the lead on the Thom B. course. His time at the top probably won't last much longer because the in-person Thom B. race is coming up on May 22nd. Since we were forced to change the course slightly this year, it now matches the FLRC Challenge course, making each loop you run in the race completely legitimate as a Challenge effort as well.
We have quite a few newcomers to the leaderboard this week. Welcome to Benedetta Carnaghi, Selina Cowan, Kyle Infantino, Chris Proulx, Isabella Song, Crosby Woods (our first teenager, who posted an impressive 42:33 on the South Hill Rec Way), and Michelle Woods.
Finally, please share any stories or photos from your runs in the last week—just reply to this post like Karen Ingall and Steve Desmond and David Rossiter did last week. The leaderboard is great for showing the numbers, but for color, we need to hear from you.