We're three months into the FLRC Challenge, and the Black Diamond Trail has taken over as the course with the most distance run, hitting 100 runs and 1000 miles today with significant help from Amy Dawson, Aaron King, and Heather Cobb, all of whom have run it eight times.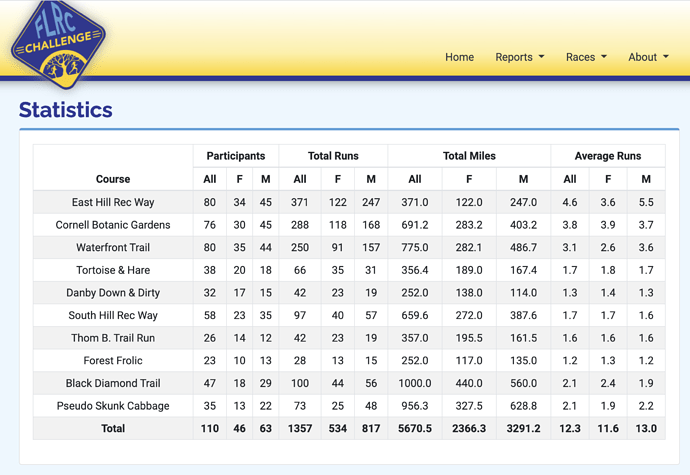 Needless to say, the 1-mile East Hill Rec Way course has the most runs, with 371, but it was both the first course open and is easily run two (too many to count), three (Liz Kluz, Ved Gund, Bob Walters, Karen Ingall, Alex Drazic, Gabrielle Woo, Sean Nicholson, Bill Watson, and Adam Engst), or four (Adam Pacheck, Amanda King, and Steve Desmond) times. As far as I can tell, no one's done it five times in a row, which would require five return trips as well, but the year is yet young!
In other course news this week, Forest Frolic got two new leaders. Ved Gund rocketed to the top of the standings with a 1:12:29 to take the lead from Klaas Van Wijk, and Margaret Frank recorded a 1:23:00 to take over from Gabrielle Woo. And speaking of Gabby, she (with her dog Sam) was also the first person to double the FLRC Challenge, running each course at least twice so far. Bob Walters could do that soon too, since Forest Frolic is the only course he hasn't run twice. Also, joining Margaret Frank on the leaderboard for the first time this week were Sarah Giesy and Gail Tremblay—welcome!
If you're looking for company on your first attempt at the Thom B. course, don't miss tomorrow's group run at 8:30 AM. There should be someone at a pace that works for you, but if you're new to those trails, be sure to bring a smartphone or Apple Watch with the Thom B. RunGo directions, just in case you get separated. And if you like the course, sign up for the in-person race on May 22nd!
Finally, in the FLRC Kids Challenge (it's never too late to sign up your kid!), Aiden L., Arya B., Hannah S., and Lea T. have also hit the 25-mile mark, and 8-year-old Toby K. continues his blistering pace to be the first to exceed 50 miles. Congrats to all the kids who are getting out and running regularly!
As always, please share any stories or photos from your runs in the last week—just reply to this post. See you out on the courses in the glorious weather coming this week!