I'm a little scattered this week due to preparing for tomorrow's Trackapalooza, @Challengers, so just a quick recap this week.
The main leaderboard change is Pete Kresock charging into the lead in Most Miles, dropping Caitlin Loehr to second and Patrick Milano to third. Liz Hartman extended her Most Points lead with a fast Ludlowville Loop last Sunday, but Nora McIver-Sheridan reclaimed a few points throughout the week.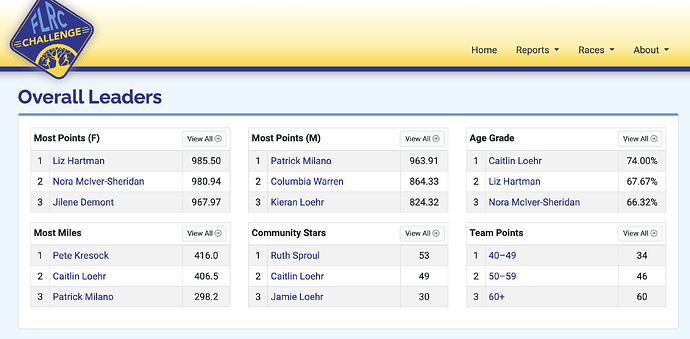 Speaking of Sunday's Ludlowville Loop group run, Sarah Ridenour and Jodi Clemons get the Good Citizens award for sacrificing their chance to run the full 11-mile course by calling 911 after a car passed them and crashed into the ditch, injuring the somewhat inebriated driver. (Luckily, no one else was involved or hurt.) They had to wait for the trooper and the emergency responders, and by the time they could leave, it made more sense to turn around.
Congratulations to Bill Begeal and Elizabeth Rechtin, our only two finishers this week. Along with our Personal Challenge finishers so far, we're up to 32 finishers out of 171 participants. That's right, we're up two from the last few weeks, thanks to late signups from Steve Vanek and Sophie Till. Could there be more Ultra Challenge efforts coming soon? We also haven't seen Ultra Challenge regulars Jami Landry and Paul Maza yet this year—perhaps they're planning a last-minute surprise completion. At this time last year, we had 47 finishers, so if we're going to equal or exceed last year's total of 111 finishers, we'd better get going!
Photos of the week go to Kuwanna Dyer-Pietras and Erin Pietras while enjoying the Cornell Scenic Circuit.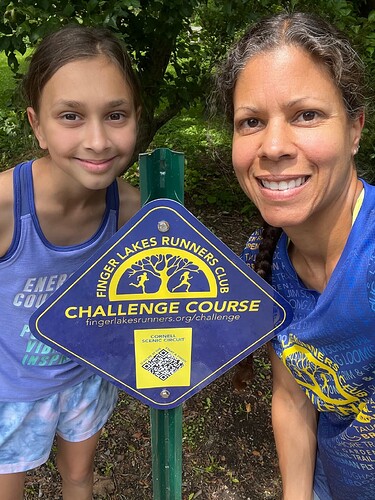 And to Caitlin Loehr and Jamie Loehr, for logging a remote Sweet 1600 from the University of Colorado, Boulder track (which historically has one of the best running teams in the nation).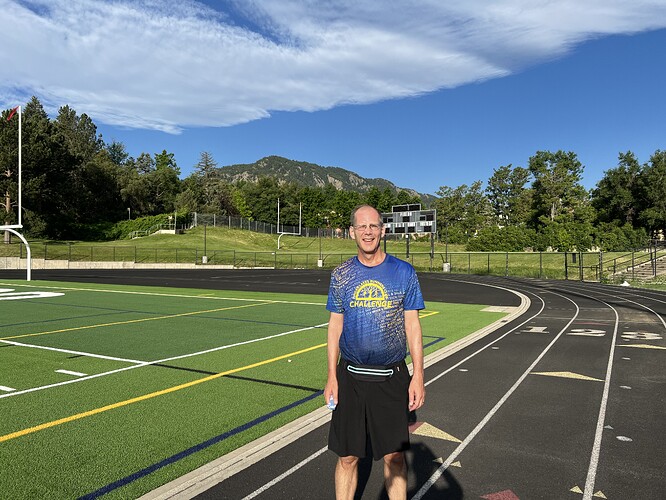 Registration is closed for Trackapalooza, so we can't take any more runners there, but Sunday's group run will be a preview of the Tortoise & Hare course thanks to race director Laurel Gilmer and Patrick Boyle. Don't delay signing up to run or volunteer at Tortoise too!