It's been a hot week in the FLRC Challenge, but that hasn't stopped us from blowing through the 10,000-mile mark. A chunk of those miles came from Pete Kresock, who took advantage of cooler, wetter weather on Monday to complete our fourth FLRC 100K Ultra Challenge of the year—way to go, Pete! We have only four more weeks to go, so if anyone else is contemplating the Ultra Challenge, it would be a good idea to run the courses first to make nighttime navigation easier.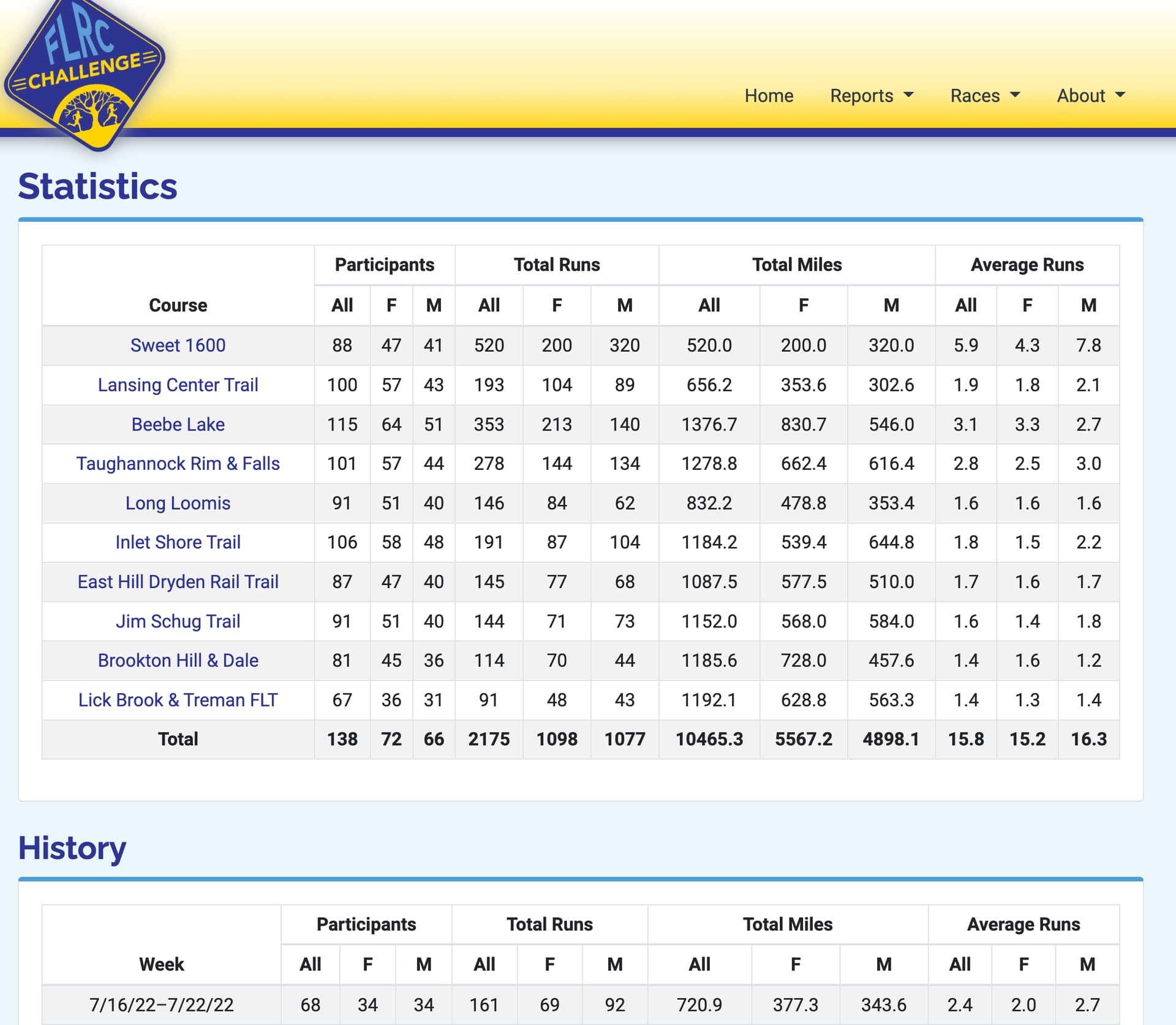 Liz Hartman has also been on fire this week, running a speedy 5:48 Sweet 1600 in Tuesday's track meet to extend her lead on that course, plus logging 68 miles for the week to overtake Amy Dawson in the Most Miles competition and push Scott Dawson down to third while the Dawsons are on vacation.
The other big leaderboard change comes from Roger Moseley, who took over first place in Most Points for men, ahead of Brian Lazzaro and Adam Pacheck, thanks to completing his tenth course with an easy run on the Beebe Lake course. Roger also moved into third in the Age Grade competition behind Caitlin Loehr and Yvette de Boer.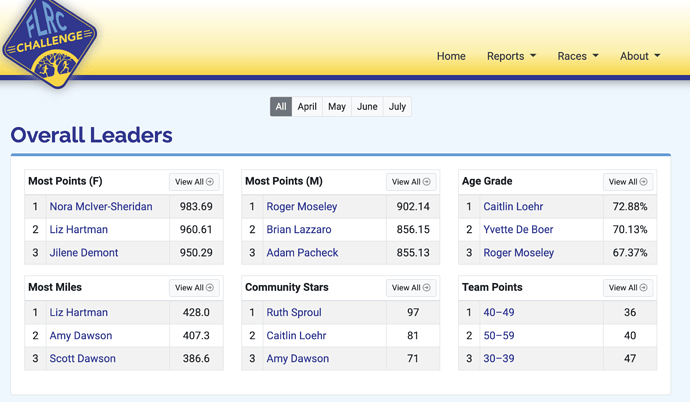 Four other Challengers claimed their medals last weekend, including two of our Elmira-Corning-area crew, Tatyana Brown and Joette Foster. It's been great to see all the folks making the trek up to Ithaca to participate in the Challenge. Also finishing this week were Jesse Koenecke and Dave Kania, two stalwarts of the FLRC Timing Team who you've undoubtedly seen at finish lines in our races. Dave also directs the Monster Marathon and Half Marathon, which uses some of the same trails as Lick Brook & Treman FLT and is a great goal race for anyone who has completed the Challenge. Monster isn't until August 27th and we hope to see you at Forest Frolic (July 30th) and Forge the Gorgeous (August 11th) first.
Speaking of medals, I've ordered 100, and 46 people have completed the Challenge so far—let's see if we can break last year's number of 87 completions by the time the FLRC Annual Picnic and FLRC CHallenge award ceremony rolls around on August 25th. It's free, but please RSVP early so we can order the right amount of food.
We've had a few more signups in the past few weeks, bringing us to 161 total runners. A big leaderboard welcome to 6-year-old Simon Woods, who has run four of the six courses in his personal Challenge, Trista Thorn, who has come down from Cortland and already finished five courses, Bob Swizdor, who's coming back from disc problems, Jim Hodges, who apparently likes to leave things until late, and Tyler Wright, who's new to Ithaca but has already finished two courses. There's still plenty of time to complete all the courses!
If you haven't yet run Lick Brook & Treman FLT yet, don't miss Saturday's group run on the course. Heather Cobb is organizing and will be providing three water stops along the course. There's also another Challenger-organized group run on the Long Loomis course on Sunday.
Pete gets the photo of the week with the Brookton Hill & Dale sign after he finished it as his last Ultra Challenge course, but don't miss Benedetta Carnaghi's most recent Sweet 1600 post. Sadly, Benedetta has left Ithaca and is back in her native Italy before she moves to Ireland to teach, but she's continuing to record Sweet 1600 efforts and document them with gorgeous Italian scenery. And pastries.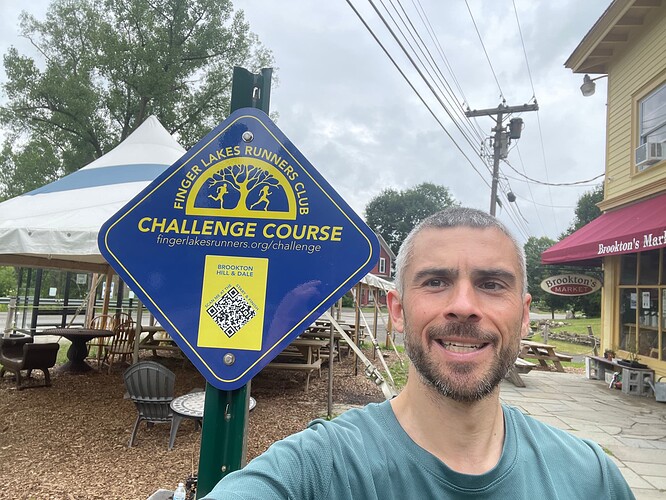 Until next week, keep covering the ground!