As mentioned earlier in the summer, many @Challengers have been intimidated by the the Lick Brook & Treman FLT half marathon course. It's daunting to be sure, but you have now trained on both sides, and this weekend it's time to tackle the entire thing!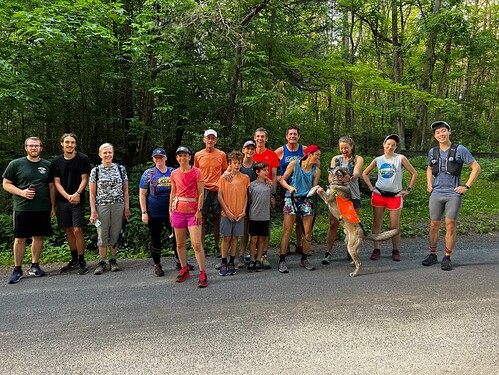 If you have already completed this course for the Challenge, or you just want to join us for a group run, you are welcome to run just a section.
Hiking is encouraged – allowing more time to take in the beautiful waterfalls – so gather some friends to make the time pass faster!
On to the details for this Saturday. We'll meet at the Finger Lakes Trail parking lot at 8:30 AM and start running at 8:45 AM. I will be acting as a mobile aid station at the King Road turn around (mile ~2) and Woodard Road crossing (miles 9 and 11), offering ice cold water and salty foods. The start/finish parking lot will serve as your own aid station to take a break, fuel up, and gird your loins for the second section.
It's going to be hot. I will have lots of water and snacks, but please bring more than you think you need.
Please vote in the poll below so others can get a sense of who else will be running/hiking their pace. We always have a wide range of participants, so you'll generally find someone to run/hike with. (Use your road pace.)
Pace Poll
Sub-8:00-minute pace
8:00-9:00-minute pace
9:00-10:00-minute pace
10:00-11:00-minute pace
11:00-12:00-minute pace
12:00-13:00-minute pace
13:00-minute+ pace
I will be hiking
Everyone is welcome, regardless of age, ability, pace, or anything else. This is a free activity; neither club membership nor registration for the FLRC Challenge is required. If you are not registered for the FLRC Challenge, you must sign the group run waiver. You only need to sign the waiver once for all 2022 group runs, so if you've already done so, you're all set! (Check Webscorer to verify that you signed.)
Let's be inclusive and fight climate change by carpooling. Vote if you need a ride or can give one, and post a reply with pickup possibilities.
I need a ride
I can give a ride
If you have questions or are interested in volunteering as a greeter/host for similar group runs, contact FLRC Group Run director Heather Cobb (cobb.heather.m@gmail.com). See you Saturday!
Subscribe to FLRC's Google Calendar so race dates, group runs, and other club events flow into your calendar. Import this ICS file for most calendar apps; subscribe to fingerlakesrunners@gmail.com if you use Google Calendar.