We've completed the 2022 FLRC Challenge! Congratulations to the 111 people who finished the Challenge—we had 144 people run at least one course for a 77% completion rate, well above last year's 53% completion rate.
Before I get to this year's winners, I just want to say that we should have a round of virtual applause (click the heart button under this post!) for everyone who participated, and particularly for those for whom completing the ten courses required tremendous effort. We're all in awe of the people who finished the FLRC 100K Ultra Challenge, but it's equally as impressive when someone who has just started running or is coming back from a major injury or surgery works their way up to covering 13.1 miles of technical trail. I've heard story after story from people for whom completing the Challenge was truly a challenge that made a significant impact on their lives. That's special.
Unlike last year, there were no last-minute leaderboard changes for individuals this year, with Nora McIver-Sheridan winning Most Points for women, Adam Pacheck scoring the Most Points for men again, Caitlin Loehr repeating as our Age Grade champion, and Liz Hartman taking home the Most Miles crown. In our new competition, Ruth Sproul was our Community Star, showing us what a running retirement is all about through numerous stories and photos of her runs, many of which were with a friend.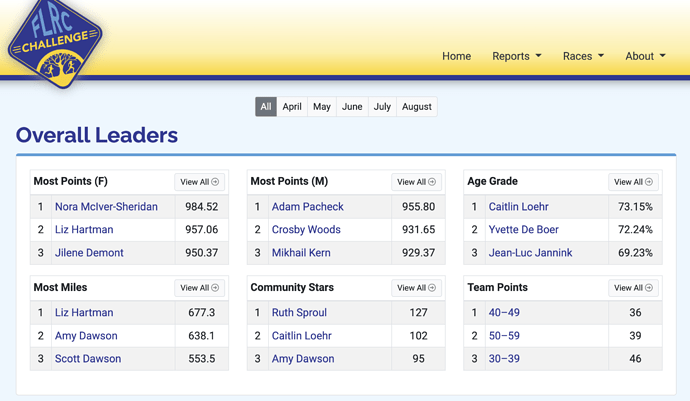 In the hotly contested Team Points, the @Fantastic-40s pulled ahead of the @Fabulous-50s on the last day despite herculean efforts on the part of the @Fabulous-50s team to log more runs and record faster times on strategic courses. In the end, the @Fantastic-40s took advantage of having a larger team (38 to 32 runners) to dominate the Most Runs points side of the competition. Even though the @Fabulous-50s were overall faster, controlling the Age Grade points, the large @Thundering-30s team (39 runners) ended up displacing the @Fabulous-50s far more than the @Fantastic-40s in Most Runs. That makes two years now that the @Fabulous-50s have fallen short in a late bid for the team win—will they be able to put it all together in 2023?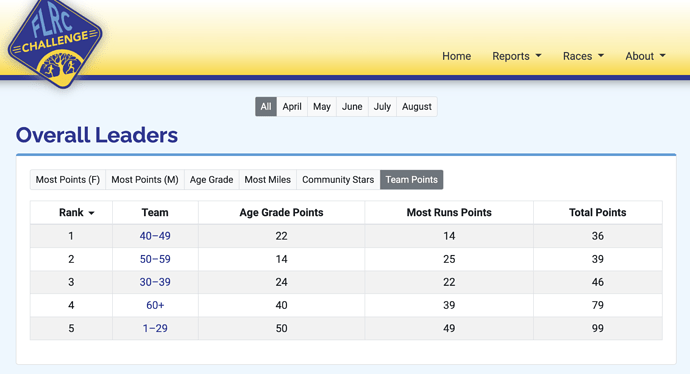 Remember that FLRC Challenge awards go much deeper, with 44 runners qualifying for nearly $1600 in prizes, which will be gift certificates at the Finger Lakes Running Company (give me a bit to put the list together so Ian can add the amounts to your accounts there). Check the Awards page to see the results. (And yes, there's one error due to Liz Hartman and Margaret Frank tying for the fastest Sweet 1600 for women; Jilene Demont should be the 30-39 age group winner, not Margaret. Let me know if you see anything else off.)
We had eight completions of the FLRC 100K Ultra Challenge this year, with gritty performances (and some great run reports) from Jami Landry, Paul Maza, Damian Clemons, Pete Kresock, Aaron King, Amy Dawson, Scott Dawson, and Teressa Naylor.
Overall, after blowing past the initial 13,000-mile goal and the stretch 14,000-mile goal, we fell just short of 15,000 miles, with a total of 14,959.2 miles. That came courtesy of a 685-mile weekend following our all-time record week of 1460 miles. Unofficially, we can say we ran 15,000 miles since I'm sure there were at least 41 miles of off-course wandering throughout the year.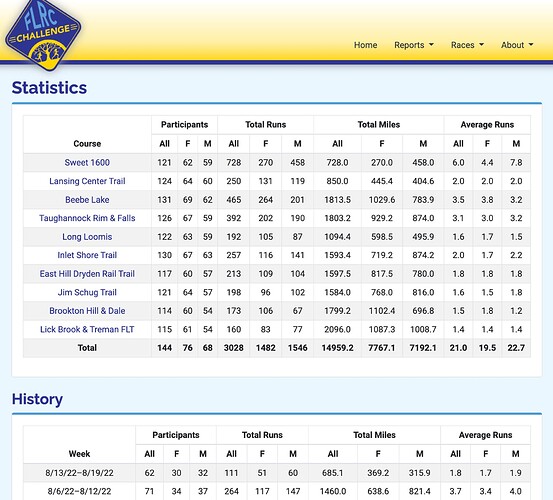 In a reversal from last year, more women ran than men, and women ran more miles than men. Men ran more efforts, but that was due to three guys who did significant track workouts that results in numerous Sweet 1600s.
Finally, I want to acknowledge our sign winners. Those who ran the most times on a particular course take home that course's sign, and if there are turnaround signs, they go to the subsequent finishers. The people who owned our courses this year are:
Sweet 1600: Patrick Milano with 100 runs (I'm making him a special sign)

Lansing Center Trail: Tristan Lambert and Rebecca Lambert tied with 13 runs

Beebe Lake: Bob Walters and Caitlin Loehr tied with 50 runs (I'll make another sign)

Taughannock Rim & Falls: Scott Dawson and Amy Dawson tied with 76 runs, and their son Xander Dawson was third with 30 runs

Long Loomis: Liz Hartman with 12 runs

Inlet Shore Trail: Jesse Koenecke with 18 runs

East Hill Dryden Rail Trail: Jilene Demont with 15 runs, winning a hot final-week contest with Aaron Proujansky, who did 12 runs, and Caitlin Loehr will take home the third sign with 9.

Jim Schug Trail: Heather Cobb with 13 runs and Dave Kania with 11

Brookton Hill & Dale: Liz Hartman with 32 runs (second place was only 4)

Lick Brook & Treman FLT: Jamie Loehr with 6 runs, Pete Kresock with 5, and Caitlin Loehr and Amy Dawson with 4 (we'll have to figure out what to do about a third-place tie between people who are already winning multiple signs)
There are many more tremendous achievements and great memories from this year's Challenge, and I'll hit some of the highlights at the award ceremony at the FLRC Annual Picnic on August 25th. Make sure to come to get your medal, signs, shirts, and general accolades! (Or, if you're out of town, get a friend to pick things up for you.)
Thanks to everyone for participating, and we're already starting to discuss new courses and leaderboard changes for next year's FLRC Challenge, so if you have ideas for either, let me know sometime.
See you at the picnic!