A lot happened in the FLRC Challenge this week! As a group, we blew past the 15,000-mile mark, and the Waterfront Trail just became our second course to pass 2,000 miles (joining the Black Diamond Trail, which is nearly at 3,000). Plus, Heather Cobb's group run on the Forest Frolic course tomorrow morning (come get wet with us and maybe complete your Challenge!) might push that course over the 1,000-mile mark.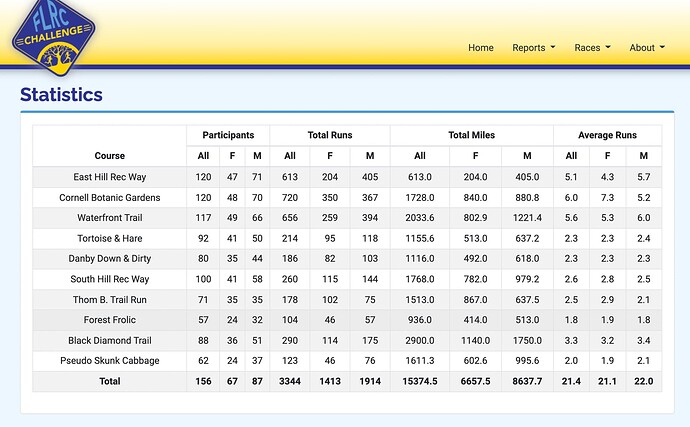 Speaking of completing the Challenge, four of you ran your tenth course this week to qualify for the FLRC Challenge completion medal: Bill Watson, Gretchen Gilbert, Brian Lazzaro, and Philip Gabler. Nice work, all, and those extra points caused some seismic shifts in the leaderboard. Bill moved into second place in Most Points for the men, behind Adam Pacheck but ahead of Crosby Woods, and Brian Lazzaro jumped to fourth behind Crosby but ahead of Jean-Luc Jannink.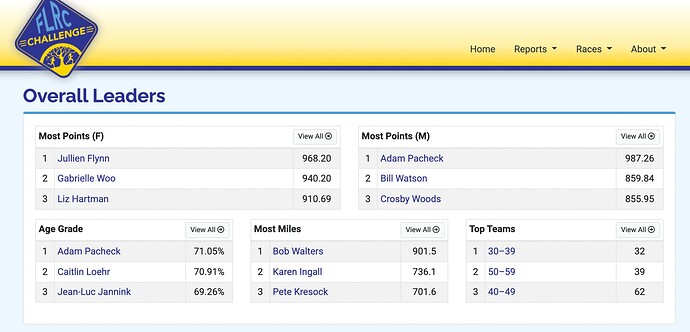 In Most Miles, Bob Walters now has over 900 miles in first place, and Karen Ingall remains in second with 736 miles, but Pete Kresock leapfrogged over Heather Cobb into third by virtue of two five-effort days, five Waterfront Trails on the 12th and five Tortoise & Hares on the 14th. After Heather recovers from her 50-mile race last weekend (congrats!), this competition could heat up even more.
We're still getting signups—up to 190 now—and there's plenty of time to run all ten courses before the end of the year. A slightly tardy leaderboard welcome to Dina Maxwell and Benjamin Kornblum, who I missed last week, and to Jules Johnson, who recorded her first effort this week—nice to have you joining us! (I love the fact that Benjamin, Jules, and Philip Gabler learned about the Challenge from seeing our course marker signs.)
The FLRC Kids Challenge, which encourages kids to run 100 miles before October 31st, has just two more weeks to go. I suspect there are some miles that have fallen by the wayside when it comes to data entry, but we now have two kids who have bested the 100-mile mark: Toby Kennedy and Arya Basu. Plus, Aidan Lazzaro and Maren Golden have both exceeded 75 miles, Rasa Warren has gone past 50 miles, and 11 more kids are between 25 and 50 miles.
Let me leave you with three administrative notes:
If you ordered an FLRC Challenge buff, remember that you can pick it up at the Finger Lakes Running Company at any time—they have access to the spreadsheet listing everyone. Or you can get it from me at a group run or MITHACAL MILERS workout. Just let me know in advance so I know to bring it.

I'm thinking of placing the FLRC Challenge shirt order on October 25th, now that the weather is heading in the direction where long sleeves would be welcome. If you didn't order one when you signed up, you can still purchase one from the FLRC online store before the 25th. Or, if you want to change your size preference, let me know.

I'm getting questions about whether we'll be doing the FLRC Challenge again next year. I think the answer is yes, since I've had so much fun coordinating it and spectating this year, but I definitely want to change some things up next year to make it even more fun. I'm working on a survey aimed at figuring out what people liked more and less about this year's approach, but in the meantime, think about what changes you might like to see and feel free to let me know in case it helps me with what to ask on the survey.
Until next week, keep Challenging yourself out there!