We're a month into the FLRC Challenge, with three more runners completing all ten courses. First, Liz Hartman claimed her finisher's medal with a Long Loomis and Lansing Center Trail double on May 7th, with Caitlin Loehr and Jamie Loehr gutting out Lick Brook & Treman FLT in the heat on May 12th for their final course. With eight total completions, the leaderboard is starting to take shape, with 38-year-old Liz in the lead for Most Points but 56-year-old Caitlin taking over the Age Grade lead. And despite Liz's speedy times, the Fantastic-40s remain solidly in the Team Points lead, followed by the Fabulous-50s, with the Thundering-30s in third. In terms of Community Stars, it's currently a three-way race between Caitlin, Amy Dawson, and Ruth Sproul, with all of them sharing great photos and amusing stories.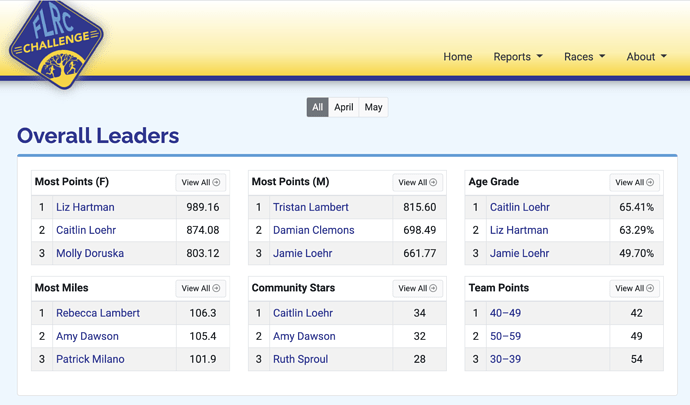 Participation continues to increase, with another ten people joining this, swelling our numbers to 142—let's see if we can bring it to 150 next week. I'm particularly struck by the fact that more women than men are running this year. In 2021, men made up 55% of the finishers and ran 55% of the miles, whereas this year, the ratio has flipped, with women making up 55% of the runners and miles so far. Way to go, ladies! And so many miles! We didn't hit last week's insane 1100 miles, but with just about 900, we were still way above last year's average. That 10,000-mile goal may need to be revised.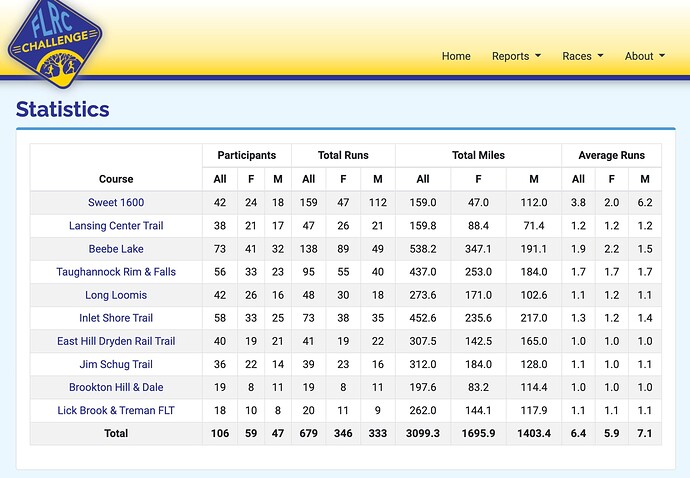 Don't miss Sunday's group run at Lansing Center Trail at 8:30 AM. Word has it the mud has receded apart from one spot, so perhaps don't wear your newest shoes and whitest shirts. Assuming the weather cooperates, we'll be hanging out at the nearby picnic tables for some post-run socializing.
If you like running the Long Loomis course this year, don't miss the Thom B. Trail Runs coming up on May 22nd. Take your pick of 8.5, 17, or 26.2 miles of trails, and unless the weather shifts, it won't be muddy.
Finally, Pete Kresock and I collaborated to build the RunGo directions for the Lick Brook & Treman FLT course. If you've been holding off on that one until you could get turn-by-turn directions, wait no longer. It is a tough course, and we're planning several group runs there later in the summer so people can explore half the course at a time and build up miles so you're trained. And remember, there is no shame in hiking! Our motto is "Cover the Ground," so if you need to hike some or all of the longer courses to complete them, that's just as much of an achievement as those who run them. And even the strongest end up hiking—don't miss Damian Clemons's report on his FLRC 100K Ultra Challenge completion, which involved spending almost six-and-a-half hours on the Lick Brook course. (Admittedly, at the end of running 50+ miles for the rest of the day.)