Cold weather may have slowed the overall rate of FLRC Challenge completions this week, but Kim Jackson deserves kudos for running her final course on Pseudo Skunk Cabbage the day before Thanksgiving. And other people see the end of the year coming and have been making plans for their last couple of courses—Holly Folsom recruited Kristina Harrison-Savage for company on Forest Frolic today, and it looks like others may be interested in a group run on Frolic next weekend too.
But the cold weather barely even slowed down Paul Maza and Jami Landry, who became the eighth and ninth people to complete the FLRC 100K Ultra Challenge on the 19th and 20th! It was an impressive effort with 17:13:53 of running and an elapsed time of 23:39:37 that snuck under the 24-hour cutoff with 20 minutes to spare. Paul contributed a wonderful write-up of the effort that's well worth reading even if you never plan to attempt an ultra.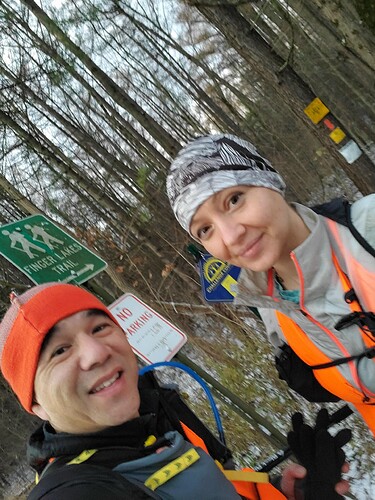 Nor did the weather hamper Pete Kresock on his multi-headed mileage quests. Two weeks ago, he finished running each Challenge course at least ten times. This week he put in two significant efforts—16 continuous loops of the Cornell Botanic Gardens course on the 22nd and 10 continuous out-and-backs on the Waterfront Trail on the 24th—to hit another goal of running at least a continuous marathon distance on every Challenge course. I'm in awe.
All those miles pushed Pete to 1051 miles (and the Cornell Botanic Gardens past 2000 miles), enough to overtake Karen Ingall in the Most Miles competition despite her achievement in breaking the 1000-mile barrier too (she's currently at 1009). But mileage monster Bob Walters has retained his lead by increasing his mileage to 1069 so far. It's not over until the clock strikes 12 on December 31st, but it's hard to bet against someone who can knock off a 38-mile day on Monday and a 31-mile day on Wednesday.
In the Better Late Than Never category, a huge welcome to Yinghua Wang and Kasey Cole, both of whom recorded their first leaderboard efforts this week. It might be tough to finish the full FLRC Challenge in the remaining five weeks, but it's good to get at least a couple of efforts in. Speaking of which, welcome back to Karen Laface, who ran twice in July, got hurt, and has now recovered enough to clock her third effort for the year. Injuries are the worst, as I know all too well.
If you haven't yet filled out the FLRC Challenge survey, keep those responses coming. I've read everything so far, and the responses are definitely helping to guide plans for next year. And yes, I believe I can say that there will be an FLRC Challenge next year, though it will probably take place over fewer months to provide a break after the end of the year, reduce any perceived pressure to run only Challenge courses, and clear the decks for cross country.
Remember that we'll be collecting FLRC Challenge lawn signs soon, probably Saturday, so if you want to keep yours for the winter and put it out again next year, just let me know so we don't swing by. But we're happy to pick them up and see who wants to host them again next year.