Despite moving into full-fledged winter, we had two completions of the FLRC Challenge in the last week. Diana Hackett logged her tenth course on Pseudo Skunk Cabbage on Sunday and John Hummel recorded his today on Thom B. Congratulation! We're now up to 68 completions with 12 more people closing in on the finish line with either 9 or 8 completions. WIth 164 people on the leaderboard, it would be great if half the participants (82) could complete the Challenge.
If you haven't yet done Pseudo Skunk Cabbage and don't feel that you can run 13.1 miles, join the Ad Hoc FLRC Challenge Hiking Club—that would be Adam Engst and Holly Folsom—on Sunday morning at 8 AM at the Ellis Hollow Community Center. Even if running isn't in the cards, we're going to finish, dammit, and Holly has promised a mid-walk pit crew of small girls ringing cowbells. If you want to pick up your FLRC Challenge shirt or buff before we start, feel free to meet me at 8 AM there too.
With Bob Walters off in Hawaii running the Honolulu Marathon, Pete Kresock made his move, taking the lead in Most Miles, and Karen Ingall followed him into second place, dropping Bob into third.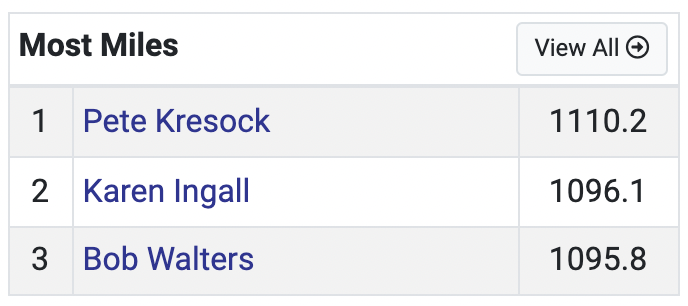 Our total mileage is now over 19,400 and climbing nicely toward 20,000. No letting up early—the weather forecast looks good next week, but serious snowstorms later on might put a major crimp in logging miles.
Finally, we have one more official group run scheduled for December 18th, and although Heather Cobb can't be there to lead it, she was suggesting either Thom B. or Pseudo Skunk. If you have a preference about which would help you finish your ten courses, reply here and whoever ends up coordinating can take the various votes into account.