Hey runners,
Meet for tomorrow's workout at the parking area in the bowl of the F. R. Newman Arboretum in the Cornell Botanic Gardens (Google Maps pin ) at 5:45 PM with a warmup start time of 6:00 PM. After our lunge matrix, leg swings, and 10 minutes of warmup jogging, we'll revisit the Five Hills workout. We'll run hard up each hill (focusing on good form, keeping the back straight), continue hard on the flat at the top for at least 10 strides, and then turn and jog back down next to the path (to avoid slower runners). Then you'll immediately move on to the next path and repeat for one pass through all the hills. All these trails are paved.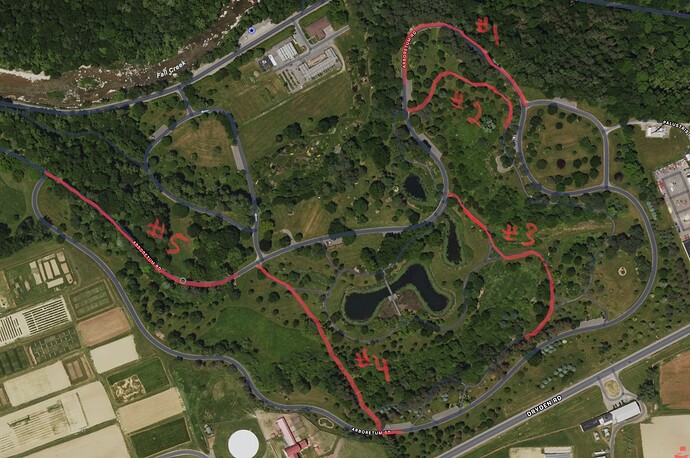 With Hill #1 and Hill #5, it's important to run all the way to the traffic signs, a Yield for #1 and a Stop for #5. The goal is to train your brain to lengthen your stride and pick up speed on the flat again after cresting a hill.
Since we've been improving throughout the fall, I'd like everyone to do all five hills and then go back and do at least one or two more in the reverse direction (as in, 1-2-3-4-5-4-3-2-1). Those with sufficient mileage can try to get all the way back.
Given the darkness and cool temperatures, we probably won't be doing strength and mobility afterward.
Everyone is welcome at these workouts, though you must sign the FLRC Training Programs waiver once for 2023 and, if you're coming regularly, be an FLRC member.
Keep signing up for the Pete Glavin Cross Country series—our home meet is coming up on October 22!
Any questions? See you Tuesday night.
Resources