The sun is setting earlier and earlier, so we're moving our workout time up by another 15 minutes. Meet at 5:30 PM with a warmup start at 5:45 PM.
Since we have our home PGXC meet on Sunday at TC3 (sign up today so we can build our teams!), we're going to do our whistle fartlek workout in the Arbor Road field below where we meet (see the image below for the workout location). We've been building hill strength for the last few weeks, so this week's workout will focus instead on leg speed and changing paces mid-race to pass other runners. (Besides, it's good practice for next Tuesday's Ridiculous Relay!)
After our lunge matrix, leg swings, and 10 minutes of warmup jogging, we'll reconvene at the top of the Arbor Road loop. I'll split the group in half by rough pace/weekly mileage, and both groups will do one easy loop to make sure everyone knows where to run.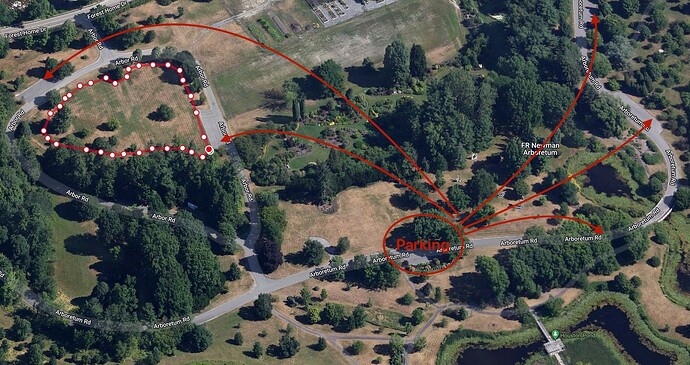 I'll start the workout by blowing a whistle. Group A will surge to I pace (5K race pace), while Group B will continue to run at E pace (conversational pace). After 15 to 60 seconds, I'll blow the whistle again, at which point Group A drops to E pace and Group B surges to I pace. Every subsequent time I blow the whistle, the groups will swap paces. We'll keep this up for 15-20 minutes or until it seems like people have had enough—the reps are short, so they shouldn't be too taxing. But with lots of people on the relatively short loop (and plenty of places to cut short if you want—it's all about time, not distance), there should be fun group chaos as the two groups keep passing each other.
Everyone is welcome at these workouts, though you must sign the FLRC Training Programs waiver once for 2023 and, if you're coming regularly, be an FLRC member.
Any questions? See you Tuesday night!
Resources