FLRC Challenge Group Runs continue! To help introduce people to the FLRC Challenge and help those already in the Challenge with their efforts, we'll be moving them around to various FLRC Challenge courses.
December 18th's FLRC Challenge run will be on the Thom B. Trail Run course, hosted by Heather Cobb. This is one of the courses least-run by participants to complete their challenge, so come on out and get your completion! We have a no runner left behind policy and if you are unsure about attending due to not knowing the course, we will make sure someone runs with you.
This 8.5-mile course starts at the kiosk on the trail just off the Hammond Hill parking lot, where there is generally plenty of parking. You can run either direction, of course, but we recommend heading down the road to the traditional start of the Thom B. trail race, continuing on up the hill and then turning left onto the trails like normal. Toward the end of the traditional Thom B. course, you'll continue on the trails to the parking lot instead of turning right to the usual finish. Scan the FLRC Challenge sign for both the start and the finish.
NOTE: If you haven't been to the parking lot before, Google Maps may bring you to it from the south on Hammond Hill Road. I highly advise against that. It's better to approach from the northwest, coming from Irish Settlement Road.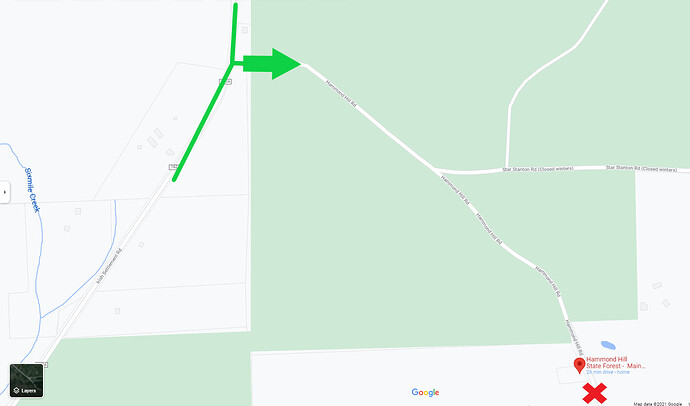 We will meet at 8:30 AM and start running at 8:45 AM. It is going to be wet/snowy and muddy, so prepare yourself accordingly.
Everyone is welcome, regardless of age, ability, pace, or anything else. This is a free activity, neither club membership nor registration for the FLRC Challenge is required, but if you are not signed up for the FLRC Challenge, you must sign an online waiver. You only need to sign this waiver once for all 2021 group runs.
There will be post-run snacks, so please stick around after for socializing and eating a delicious breakfast.
Unless you're fully vaccinated (2 weeks post-second shot for Moderna/Pfizer and post-shot for J&J), please bring a mask for wearing whenever you're not running.
If you have questions, or if you might be interested in volunteering as a greeter/host for future runs, contact FLRC Group Run director Heather Cobb at cobb.heather.m@gmail.com.
Resources:
Upcoming group runs:
12/16: Ithaca Holiday Lights Group Run around downtown Ithaca.
1/8: TBD (have suggestions? email me! new places are always welcome)
1/22: TBD (have suggestions? email me! new places are always welcome)