Last week's time trial was hugely popular, with 41 people clocking diagnostic times and another 15 helping put it all on, doing the kid workout, being a kid, and generally being supportive.
Now it's time to apply the time trial result to your training, which is aimed at helping you race the mile in the FLRC January 15th, February 19th, and March 12 track meets, plus the Hartshorne Masters Mile on January 21st for those over 40. (Mile training is great for other distances too and builds oodles of moral character.)
First, look up your time on Webscorer, if you haven't already. Second, go to the Jack Daniels' VDOT Running Calculator. Select the 1 Mile distance, enter your time, in minutes and seconds, click Calculate, and switch to the Training tab. (If you missed the time trial, you can use another recent race time or go run a hard mile on a track on your own.)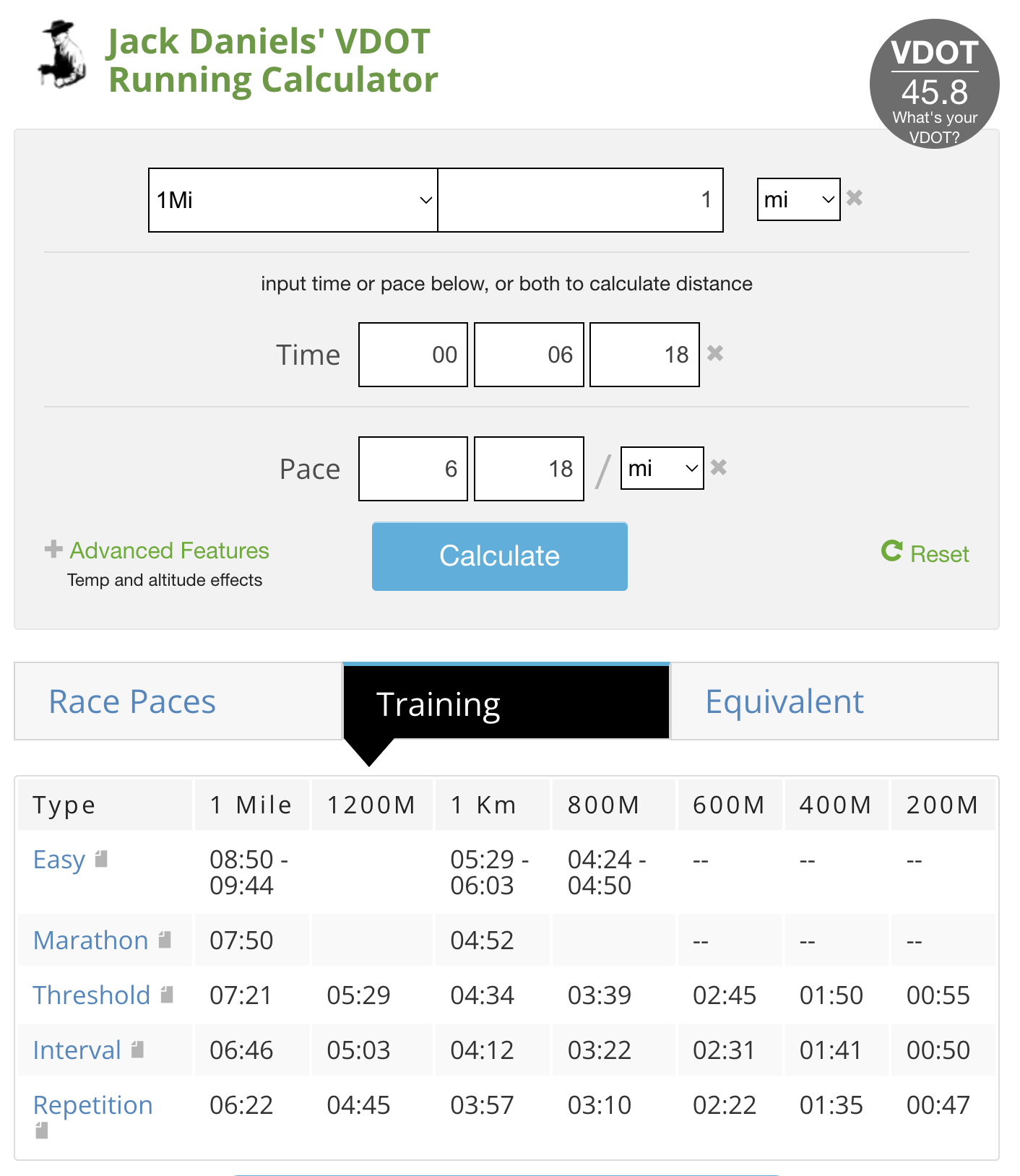 In the example above, I've used a 6:18 mile. The Training tab shows what your Easy (E), Marathon (M), Threshold (T, also called Tempo sometimes), Interval (I), and Repetition (R) paces are. We'll probably only use T, I, and R in these workouts. The beauty of the calculator is that if our example runner wants to run an 800 at I pace, say, they can see that they should aim for roughly 50-second laps (in the 200m column) and a 3:22 overall (the 800m column). It is good to have a watch you can start and stop for each rep, although we will split into groups who are roughly the same pace.
Track Workout: For this week's workout, we'll do a ladder of 200-400-600-800-600-400-200. We'll be playing with paces in this workout, so the 200s and the 400s will be at your R pace, whereas the 600s and the 800 will be at the slower I pace. The rest will be 400m after each rep. The repetitions total 2 miles of speed, so if you aren't running at least 25 miles per week overall, you can drop the 800.

Injury Recovery Session: Once the runners have started, everyone who's joining me for injury recovery will gather off to the side somewhere to discuss what we're dealing with and start in on some easy exercises.
Kate McCormick will again be leading kids 7–11 in running games—more info here. She could use a few more kids to make a coherent group.
Resources