It was a busy last week in the FLRC Challenge, with four more completions, led by Heather Cobb, who worked her way through the courses and finished with last Sunday's huge group run on Taughannock Rim & Falls. Way to go, Heather!
Our other three finishers took a different approach, going for all ten courses in one day. That's right, Paul Maza and Jami Landry were our first FLRC 100K Ultra Challenge finishers on Sunday evening, followed by Damian Clemons early on Monday morning. Congrats to all three of them! Jami and Paul had a running time of 16:12:23 and an elapsed time of 23:26:56—under the 24-hour cutoff, but not by a lot—and they spent some of their time composing limericks for each of the courses. They're a must-read, and they took lots of photos too. Damian's running time was 14:38:43, and his elapsed time was 21:36:34, well under the 24-hour cutoff. Hopefully, he'll share a report soon.
With five people having finished all the courses, the leaderboard is starting to solidify a bit, but there's plenty of room for movement. With first finisher Rebecca Lambert and Damian both in the Fantastic-40s, that team has swung into the lead, with the Fabulous-50s not far behind and the Thundering-30s dropping back a little… for now, I expect.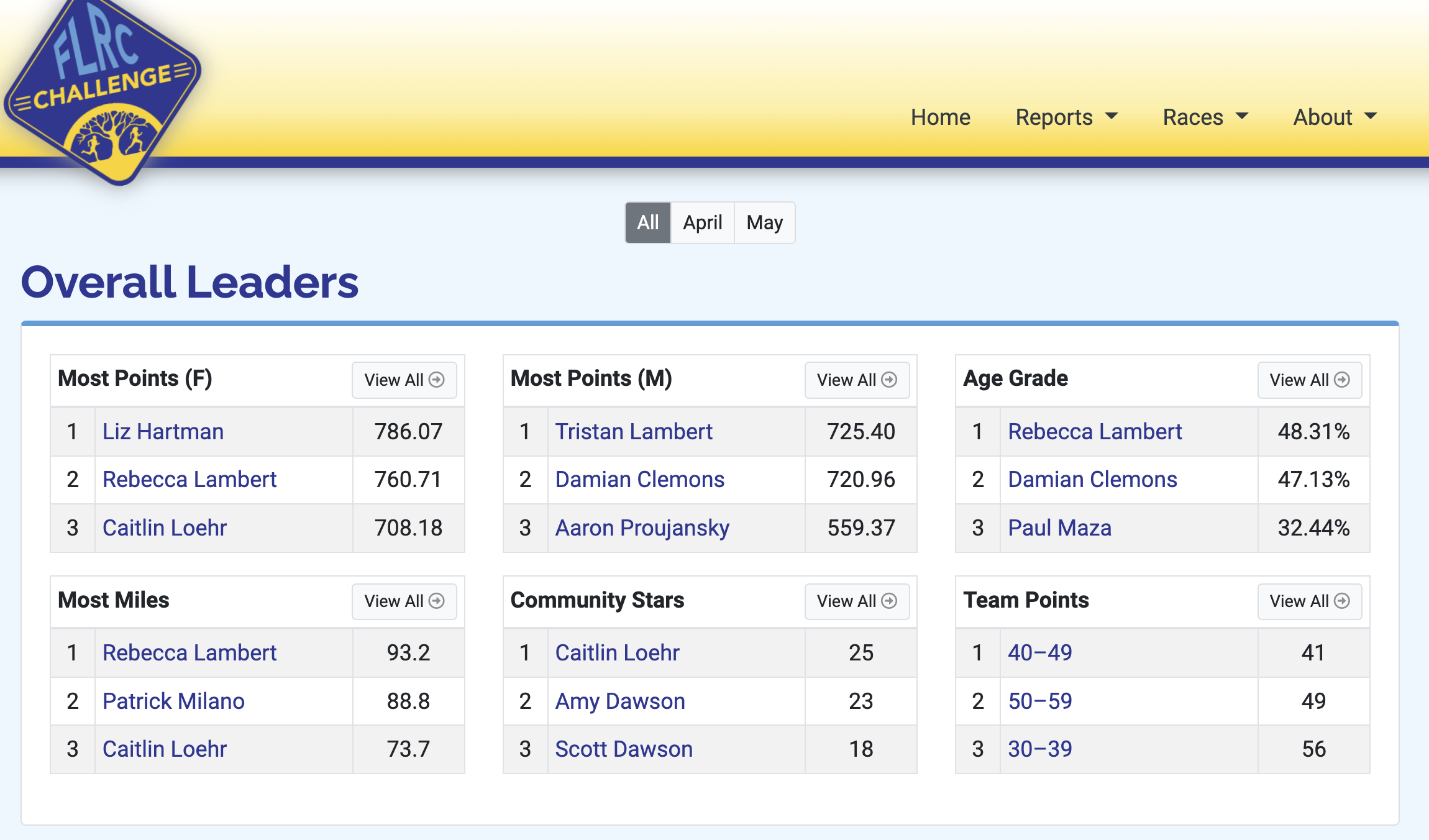 Having three Ultra Challenge completions certainly helped, but last week was also a massive mileage record, with 1092 miles! Last year, our biggest week ever was the last one, at 931 miles. At this rate, we might blow past the 10,000-mile goal well before the end.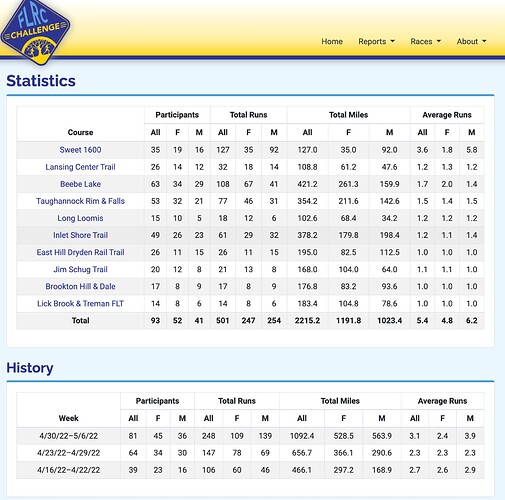 Helping that along is the fact that we're up to 132 participants, 93 of whom have completed at least one course already. That's too many to call out by name, but great work getting started, everyone, and keep recruiting your friends. Let's get more people signed up than last year!
Speaking of which, now that we're into May, you'll notice month buttons at the top of the leaderboard in the first screenshot above. Our two weeks in April were the warmup, and I suspect August's two weeks will be full of team competition, but you can use the three months in between for your own personal challenge. Maybe you're coming back from an injury and want to focus on July, or maybe you have a two-week trip planned for July and want to see what you can do in June. Whatever the reason, click those month buttons to see how you're faring in all the competitions for just that month. There aren't any extra prizes for winning a month, but you'll get the personal satisfaction of accomplishing something real.
I was late in getting this out, so you probably already know about Heather's group run on the Long Loomis (or Thom B.) courses tomorrow morning, but if you're a night owl reading this now, head to bed so you can meet the group at 8:30 AM for some companionable running.
I won't be there because I'm timing the Cayuga Heights Elementary School 5K tomorrow and the Women's Distance Festival 5K Sunday, along with the Belle Sherman Elementary 5K on Saturday, May 14th, but I hope to be back with another FLRC Challenge group run on Sunday, May 15th. Stay tuned.
Until next week, keep logging the miles and sharing your stories and pictures!