It was another big week in the FLRC Challenge, with the group running 687 miles for the week and cruising to 5088 total miles. We also hit 150 participants, 122 of whom have logged at least one course. Way to go, folks—and remember, it's never too late to sign up! At this rate, we might be able to break 13,000 miles for the full 18-week Challenge. The women have also retaken the lead on Brookton Hill & Dale, leaving men having run more on only the Sweet 1600 and Inlet Shore Trail.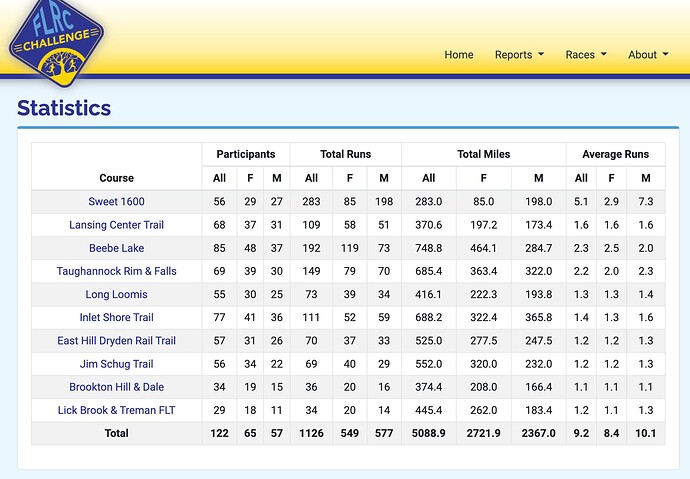 The week also brought two more completions, from Kris Haines-Sharp and Pete Kresock. Pete celebrated his completion with another set of song lyrics—we really need someone to perform these compositions at the award ceremony. Kris's effort also moved her into third place in the Age Grade competition behind Caitlin Loehr and Liz Hartman.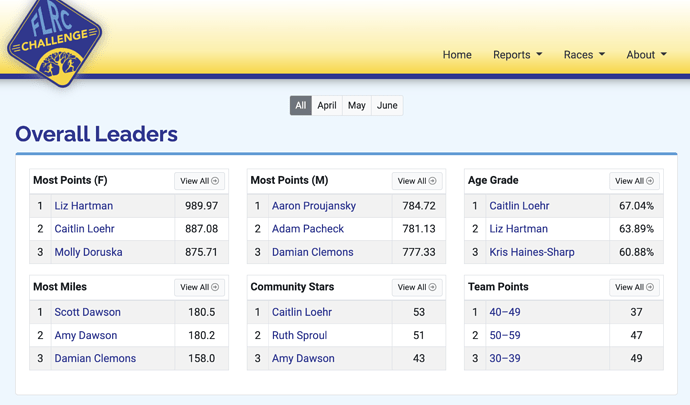 The other notable leaderboard change this week was the return of last year's Most Points winner, Adam Pacheck, who has now run eight courses fast enough to move into second place for Most Points, behind Aaron Proujansky, who has nine done. Adam has also helped the @Thundering-30s gain ground on the @Fabulous-50s, but both remain well behind the @Fantastic-40s. It's only a matter of time before Adam runs Inlet Shore Trail and Brookton Hill & Dale to collect points on those courses—the question is if anyone will emerge to challenge him—perhaps Mik Kern (first on East Hill Dryden Rail Trail) or Charlie Hale (first on Inlet Shore Trail).
Perhaps the most amusing part of the last week was the continued posting of far-flung Sweet 1600 efforts. Michelle Woods logged one near Philadelphia while driving home, Tonya Engst and I made a point of running or walking a 1600 on a different track every day while we were in Vancouver and Toronto on vacation, Tristan Lambert has submitted two efforts from Lausanne and Lucerne in Switzerland, Charlie Fay posted one from Basel, Switzerland, and Bill Hartnett has claimed the distance medal so far with a run in Lihue, Hawaii, a whopping 4855 miles from Ithaca. The pictures from tracks outside the Ithaca area are a ton of fun—keep 'em coming!
I won't say this track in Toronto was our favorite—it's only two lanes and was almost round—but talk about convenient track access for the apartment dwellers at the far end.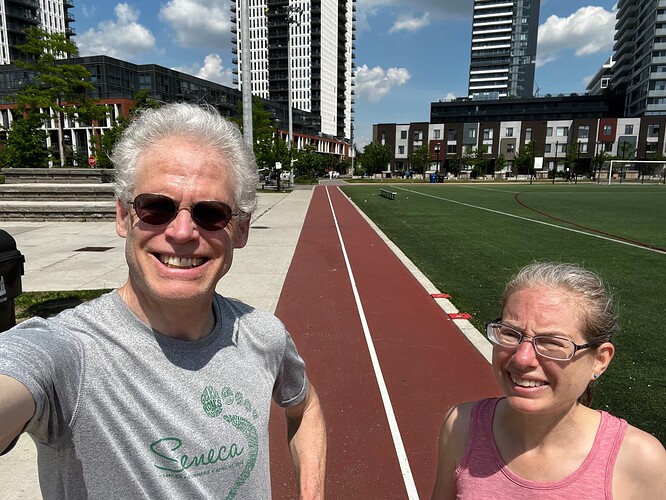 If you're looking for a group run this weekend, join us on Sunday the 5th for a companionable effort on the East Hill Dryden Rail Trail course. Please register in the pace poll so others can see that they'll have pace company. Meet at 8:30, run at 8:45.
Finally, remember that you can check your full May results on the leaderboard now—just click the appropriate month button at the top to restrict results to that month.
Until next week, cover the ground!