The fifth week of FLRC's Happy Holidays Scavenger Hunt is almost over! Be sure you post your items by Saturday - winners will be announced on Sunday.
The final week of the hunt begins Sunday, 12/27, and runs through the end of the year, 12/31. It's a shortened week, so why not go out with a bang: all previous items from the hunt are now up for grabs! That means you have 30 items (and one bonus item) to try and find in the last 5 days of the hunt. For an added challenge, try finding the items in different places than you did before.
Now, I have a hard time remembering just 6 items - and I came up with them! - so I made a picture you can save to your phone to reference when out on your adventures.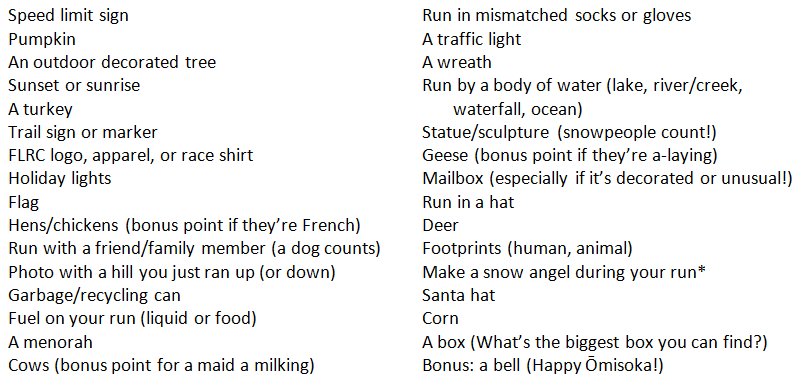 *If you're running in a part of the country where it doesn't snow, 1) we're jealous, and 2) make a grass or sand angel instead!
(Find out more about Ōmisoka.)
Once you find your item, take a selfie or picture and post it on this thread. For every item that you post, you get one point. The runner(s) with the most points will be entered into the swag drawing at the end of the event. Remember that the race director (that's me!) can award extra points based on particularly creative or artistic photos, or those that get lots of "likes" here on the forum. (The race director also has a soft spot for cookies, but you didn't hear that from me…)
Happy hunting!