Last weekend, after the FLRC Kids Challenge kick-off run in the Cornell Botanic Gardens, I went out to Kennedy State Forest in Virgil to install the Forest Frolic sign and open our final course. The First Mud award went to Jamie Loehr, who quickly followed it up with his first run on Tortoise & Hare, making him the first to complete all ten FLRC Challenge courses and catapulting him to the top of the Average Age Grade ranking. Congratulations, Jamie!
Jamie's time at the top was temporary, though, with his wife Caitlin Loehr completing her tenth course the next day to take the lead, and with Gabrielle Woo checking off her final course a day later to move into second for Average Age Grade (and first woman in Most Points). Remember, the core goal of the FLRC Challenge is to complete all ten courses and win the coveted FLRC Challenge medal. How many more people will join the medal club next week?

After Heather Cobb snuck into the Most Miles lead briefly last week, Pete Kresock came roaring back with 30 miles in an impressive Black Diamond Trail triple effort. It was part of a personal 50K time trial that you can read about on Pete's blog.
Between Heather's quad-course effort and Pete's triple, we clearly needed to up the ante. I'm pleased to announce the FLRC 100K Ultra Challenge, a test of running prowess that Mike Stewart called "such a phenomenally bad idea that it makes me tear up with pride." To win a personalized FLRC Challenge course sign, you'll have to complete all ten courses—slightly more than 100K—in one day. And yes, much discussion was had about what constitutes a "day." Spread the word to any ultramarathoners you may know!
Switching from kilometers back to miles, in the Week #4 Recap, I noted that we had collectively run just over 1000 miles, or roughly 250 miles per week. Four weeks later, we're now completed over 3300 miles, with our average rocketing to over 400 miles per week. That's a run rate (heh) of 18,000 miles by the end of the year, but I bet we exceed 20,000 easy. We'll be getting help from the 46 children signed up for the FLRC Kids Challenge too. They've collectively run over 200 miles in the first two weeks, as you can see on the FLRC Kids Challenge Dashboard.
Although the team standings are still settling down from all the new course additions, keep an eye on the @Super-60s-70s team, which should be moving up the leaderboard now that it has results coming in from newcomers David Rossiter, Anne Shakespeare, and Ruth Sproul. And Fantastic-40s, you might want to recruit your friends and organize some group runs to get more results into the mix.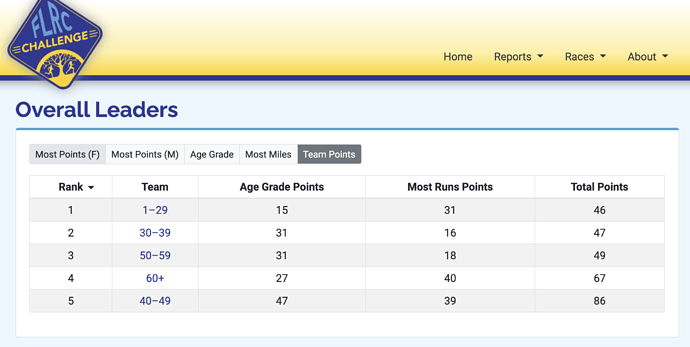 Finally, a few administrative details:
Thanks for helping to recruit more people to the Challenge—it's a huge community game, and the more people playing, the more fun it will be for us all!